Shaiya Rothberg
Biography
Shaiya Rothberg grew up in New Jersey and made aliyah to Israel in 1988. Today he lives in Jerusalem with his wife Gittit, and three sons, Amos, Binyamin and Yotam. He holds a PhD in Jewish Thought from Hebrew University and a B.A. in Talmud and Jewish Philosophy from Bar Ilan University. Shaiya teaches Bible, Kabbalah and Jewish Philosophy at the Conservative Yeshiva in Jerusalem.
Where to find Shaiya Rothberg online
Books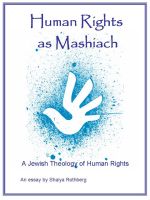 Human Rights as Mashiach - A Jewish Theology of Human Rights
By
Shaiya Rothberg
Price: Free! Words: 7,770. Language: English. Published: March 1, 2013. Category: Essay
It happens that powerful redemptive ideas push humanity to a higher stage of evolution in which we as a species are wiser, more loving and more just than we were before. One such idea was that faithfulness to God means abolishing slavery. I think that today there is a new idea that can help redeem humanity from her state of exile and destruction. That idea is the theology of human rights.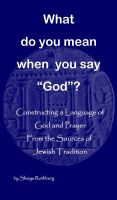 What Do You Mean When You Say "God"?
By
Shaiya Rothberg
Price: Free! Words: 43,860. Language: English. Published: August 30, 2012. Category: Nonfiction
Constructing a Language of God and Prayer from the Sources of Jewish Tradition
Shaiya Rothberg's tag cloud