Shane North
Biography
Shane North believes every day is amazing. The world is truly full of miracles and the things that go bump in the night are beautiful. Writing paranormal fantasy and paranormal romance is an extension of those thoughts. His vampires and werewolves are immortal creatures leading an extraordinary life in our world. They live, love, and breed new races, but add in the Royals. Pureblood vampires from a different time dimension, a powerful Shaman, and you have a magic more powerful than the immortal world has ever seen.
Series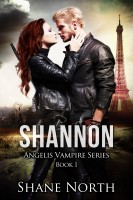 The Angelis Vampire Series
by

Shane North
Shannon's life is happy except for her nightmares, but when she watches her mom and dad being murdered by the monsters in her dreams, her life falls apart. Her best friend turns out to be a werewolf, the man she thinks of as her other father is the alpha male, and her long lost uncle is a vampire lord from Angelis. Angelis is in another time dimension, a world ruled by Royals, a pureblooded line of vampires with powers never seen in this time dimension. Angelis is a medieval world of castles, and ancient magic that her mother and uncle were forced to leave to save their lives. Shannon's journey leads her to follow her destiny and meet the love of her life. Destiny and her uncle lead her to find out what she really is, where she came from, and to become the strongest immortal to live. Shannon learns to kill quickly, and to love like there's no tomorrow when she meets her mate from her dreams. Simon, an eight-hundred year old Viking has searched the world for his true love when he meets Shannon.
Books
Shane North's tag cloud