Shannon Buckley
Biography
Shannon M. Buckley heralds from the Rocky Mountain Region, but has been sighted in such exotic locations as California and Hawaii. A self-proclaimed vegetable aficionado, she channels the excess energy to train for competitive sports – and write books she hopes parents and young people will read so they can come to know and share the love of God early on. She holds a Bachelors of Arts degree in Behavioral Science with a focus in Sociology from Metropolitan State College of Denver. She is a fashion designer, multimedia artist, entrepreneur, athlete, blogger and speaker.
Books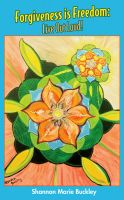 Forgiveness is Freedom: Live Out Loud!
by

Shannon Buckley
Fulfilling your dreams is possible. Personal responsibility, self-awareness and service are the keys to your purpose and the impact you can have with your limited amount of time on this planet! Forgiveness is Freedom: Live Out Loud! Choose patience, faith and gratitude. Live with a positive attitude and go for your dreams with an open and trusting heart through the practice of forgiveness.
Shannon Buckley's tag cloud