S.H. Marr
Biography
S.H. Marr began writing at an early age and never stopped. After years of truly terrible stories, she took her first creative writing class and was told to stop writing fantasy by her teacher. Ignoring him and following her lifelong love of fantasy and sci-fi, she began Twin Lives Twisted, her first novel, the following year.

Currently, she lives in Wisconsin, where she is finishing her English B.A. in between writing and Dungeons & Dragons sessions.
Books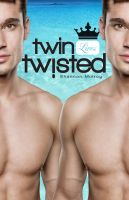 Twin Lives Twisted
Twin lives torn apart by murder and envy; twin lives blighted by slavery; twin lives lived in the shadow of the whip. A journey taking you from the depths of mankind's depravity to the heights of love—the kind of passionate love that only two men can share.
S.H. Marr's tag cloud