Michael Shapter
Biography
Michael J. Shapter RBI MCA PhD FAIMBI
Michael Shapter is a photographer, graphic designer and writer who lives on the Sunshine Coast of Queensland, Australia.
He trained as a photographer in Canberra, Australia and has worked in various specialist areas including editorial, advertising, portrait, marine, scientific and technical photography. For more than twenty years his principle employment was as a medical and forensic photographer in Australia and Britain.
He has a Master of Creative Arts degree and a Doctorate. Both of his theses investigated various characteristics and applied methods that viewers use when looking at photographs. He is keenly interested in the mechanisms that allow viewers to ascertain information from photographs.
Dr. Shapter served two terms as President of the peak professional body representing medical photographers in Australia and is both a Registered Biomedical Illustrator and a Fellow of the Australian Institute of Medical and Biological Illustration and has previously been a Registered Clinical Photographer in the UK and a member of the Institute of Medical Illustrators in that country.
While photographic practice has been his main focus, he has also taught photography at primary school level to university level and held workshops for advancing beginners. His primary pursuit is fine art photography and he has had exhibitions of his work, which is also held in public and private collections. He has published three books of his fine art photographs.
More recently he has concentrated his time on writing and has had several articles published in academic journals.
Books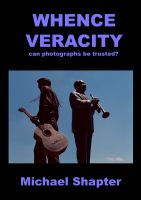 Whence Veracity: can photographs be trusted?
by

Michael Shapter
This book examines if traditional and digital photographs can be truthful renditions of the world. It traces the history of photography's veracity and explores characteristics of photographs that aid or preclude veracity. It outlines factors that continue a belief in photography's high veracity, drawing conclusions in light of post-referential pictures
Michael Shapter's tag cloud