Shara Godwinson
Biography
Shara has always loved fantasy, having fallen in love with it as a child. She loved fairy tales from Authors such as Hans Christian Anderson and The Brothers Grimm. J.R.R. Tolkien has always been a massive influence, especially characters like Fili, Kili, Faramir and Sam (a personal favorite). She graduated from Eastern Oregon University in 2015 with Bachelors in History and Liberal Studies. She lives in Eastern Oregon with her cat, Isabella, her Chihuahua Maisie, and her Ring Necked Parakeet, Pretty.
Where to find Shara Godwinson online
Books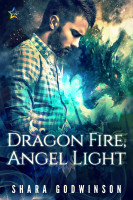 Dragon Fire, Angel Light
by

Shara Godwinson
William is a dragon shifter who, despite having lived for over two thousand years, has never found a true love. When he meets Evyn, a quirky musician/journalist who wants to be a real photographer, he immediately finds him irresistible. But Evyn's a little supernatural too, and an evil brotherhood and a band of soul reavers are after him to destroy his pure soul.
Shara Godwinson's tag cloud