Sharon Redwood
Biography
Sharon has a natural powerful gift of clairsentience and mediumship. Her first memory of seeing and talking to an Angel was when she was two years old. She was sat alone terrified on her bed after seeing a demonic entity under her bed.
As she grew up she was told that it was all in her imagination and her gift of seeing the spirit world was lost but as she reached teenage years she dedicated her life to finding her natural gift again. Sharon has been the victim of childhood abuse, domestic violence, psychic attacks, demonic storking and only through her inner belief that there was something so much more powerful somewhere out there that she not only survived these traumatic experiences but she came out of it a stronger, more loving and caring person.
Sharon is married with three children and strongly believes that we are all experiencing huge changes in our lives, physically, emotionally, energetically and she knows how lonely it can be to feel and experience things that are hard to consciously understand.
In adulthood she dedicated her life to helping others through Mediumship readings, bereavement counselling, demonic entity removal, spirit releasement therapy, spiritual awareness workshops and now wishes to share with others her experiences with the spirit world, good and evil.
Sharon continues to work very closely with Angels, Ascended Masters and Higher Light beings in order to receive the relevant information that needs to be passed onto others that needs to be shared at this crucial time.

She believes that we all have the gift of communicating with the spirit world but also that we have a choice to how and what we want to receive.
Books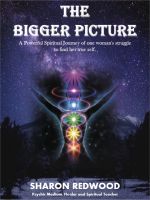 The Bigger Picture
by

Sharon Redwood
This is an inspiring spiritual journey of one woman's struggle to find her true self and enlightenment. A tear-jerking story of betrayal, pain, abuse and fear. It will take you on a journey of self discovery thorough the words of Sharon's life story and how her Angels and Spirit guides have assisted her through healing, forgiveness and spiritual growth.
Sharon Redwood's tag cloud