Abhishek Upadhyay
Biography
I am Abhishek Upadhyay with more than 10 years of IT industry experience, started my career as a Software Engineer on Microsoft technologies like VB, also get involved in C & COBOL programming but later switched to Java programming. 10 years back I was impressed by Applets and Swings, and then it was MVC, JEE & layered architecture, and lastly flattered by concurrency package in JDK 5. I used Java/Java EE to develop UI, Business layer, Middleware, and back office. I used Java/Java EE for developing CRM, Stock exchange, Energy management, Banking Application, and several adapters. My latest areas of interest are JavaFX, JAX-RS, and Java ME.
Where to find Abhishek Upadhyay online
Books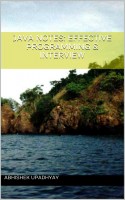 Java Notes: Effective Programming & Interview
by

Abhishek Upadhyay
A handy notes for Java, which will help in daily programming, development and also when you are giving or taking interview; quick reference guide for daily programming & development. This book is designed to help Java developers from beginner to expert level, with concise information of popular and complex subjects of daily programming & Interviews.
Abhishek Upadhyay's tag cloud