Sherrie Englehart
Biography
Sherrie Ann Englehart was born in the small town of Pembroke, Ontario. She is the daughter of Shirley and Norm Morphet and was raised on military bases living out her primary years as a military brat. Her father retired when she was twelve years old, which commenced her first experiences with civilian life. After many years of struggling and overcoming many physical obstacles, she has so far been able to make a life for herself . She is a steadfast, strong-willed woman who believes that to make it in life, you just need to believe and you can do anything. She is religious to a point and has never failed to thank God for what he has blessed her with. She never dwells on what she doesn't have. Her favourite inspirational quote is "Most people ask God to lighten their loads instead of strengthening their backs". She has always prided herself in being the person who prays for strength. Although this will be Sherrie's first piece of literature to formally be introduced to society, she is confident that the fictional series of 'The Realm of Mystiques' will be a whole new look into mythical creatures.
Where to buy in print
Books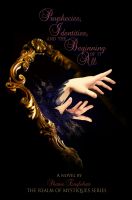 Prophecies, Identities, and the Beginning Of It All - Book 1: The Realm of Mystiques Series
by

Sherrie Englehart
What do you say when someone tells you that you are here to save the world? Shy and withdrawn Serenity has grown up in a small community where everyone knows everyone. When tragedy strikes, she goes from being a resigned and defenceless human; someone always tormented by her childhood bully, to a lady of the court on the House of Vampires in the Mystical Realm.
Sherrie Englehart's tag cloud