Gayle Lain
Biography
I am Raymond. I survived the death of my dad and my mom's remarriage and early death. Now in my seventh decade, I am amazed that both Dad and Mom lived only half as long as I. Today, I sit in a wheelchair, my legs casualties of multiple sclerosis. I look back down the trail since those oil patch days. Mom would be proud that, in spite of my rotten spelling and frequent moves from school to school, I earned a doctorate at the University of Wyoming. Dad would be proud that I lived his legacy of love, family and storytelling.
Books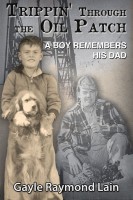 Trippin' Through the Oil Patch--A Boy Remembers His Dad
by

Gayle Lain
Each chapter of Trippin' through the Oil Patch is a story all by itself. But each story links with the next, as the book reveals the life of transient laborers in the Rocky Mountain oil fields during the 1940s and 50s. With each story, the narrator, Raymond, moves closer to the end of his oil field days, when, at the age of twelve, his dad is killed in an oil rig explosion.
Gayle Lain's tag cloud