Shiva Shankar Iyer
Biography
Shiva Shankar Iyer is currently pursuing his second year of Engineering from The National Institute of Engineering, Mysuru (Mysore) in Karnataka. His work has been published twice in Young World - the supplement for youngsters from The Hindu, a leading national daily. He has been dabbling in writing since the past
5 years.
In addition to writing humour based content, his work has been published on technical topics such as Digilocker and Self Driving Cars.
He has sailed through 12th standard with decent marks to keep pestering relatives at bay. Apart from writing, Shiva has won medals at National Level Abacus Competitions and is an avid fan of debating and public speaking.
Books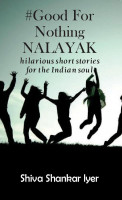 #GoodForNothingNALAYAK
by

Shiva Shankar Iyer
Girls, in general, expect a lot from guys. He should be tall, dark, sweet and comforting. Sweet and Comforting? Attention all Ladies: Do you want a boyfriend or a Cadbury Silk? (an extract from the story "Finding a Girlfriend" from this book) Quirky, funny and intelligent. "#GoodForNothingNALAYAK" is a collection of short stories writen to add a smile on the face of anyone who reads this book.
Shiva Shankar Iyer's tag cloud