Shoulee Paul
Biography
Shoulee Paul was born and raised in post-World War II Taiwan, Republic of China, the daughter of a Taiwanese police officer, who had served in the Japanese Imperial Army. She struggled to make sense of her father's often cruel behavior, and after surviving a home life of fear and desperation, she married an American serviceman stationed in Taiwan. Shoulee then left home to accompany her husband as he moved between various posts throughout the world.

Due to her family's poor financial circumstances, Shoulee was unable to attend school above the eighth grade, so she taught herself to read and write English, and learned how to run a business from experience working in her family's barbershop in Taiwan, and through owning and operating a beauty salon in the United States. Presently, in 2011, Shoulee lives in San Diego, California where she continues to run her salon. She enjoys life today with her daughter's family, including two grandsons.
Books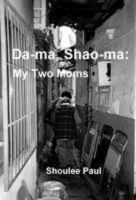 Da-ma, Shao-ma: My Two Moms
by

Shoulee Paul
Besides the harsh life in a nation rebuilding after half a century of rule by the Japanese, Shoulee faced other challenges. Her father, having married and fathered children, took a second woman, who likewise gave birth to several more. This true story recounts the competition between two mothers, "Da-ma and Shao-ma," strife between their offspring, and the struggle for survival.
Shoulee Paul's tag cloud