Scott G. Howard
Biography
Scott G. Howard is an author and storyteller that brings you his unique perspective on relationships. In his first book, a memoir, 'A Love Undeniable, A Life Unforgettable,' Scott chronicles his adventures over a twenty-three-year span with his wife, Chris - from their chance meeting, to eventually falling in love and dating, getting married, traveling, and fighting a rare form of bone cancer together. Scott was born in Syracuse, NY and resides in Charlotte, NC, where he has lived for almost twenty years.
Where to find Scott G. Howard online
Books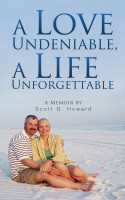 A Love Undeniable, A Life Unforgettable: A Memoir
by

Scott G. Howard
It was 'severe like' at first sight. Chris Conlon was a bright light in Scott Howard's life from the first moment he laid eyes on her. What started out as a chance meeting over mini golf ended as a deeply touching journey through life, love and battling bone cancer. In this book, Scott shares how love is the one thing that gets you through it all.
Scott G. Howard's tag cloud