Denise Farnaby
Biography
My name is Denise Farnaby and I live in Leeds,West Yorkshire UK .I have always enjoyed writing from an early age (must be the vivid imagination I was born with)and had to suffer the embarressment of reading my stories to the class when at school.My late mother was my inspiration as she wrote songs,stories,and poetry herself and was very gifted.She brought us up reciting poetry to us,and wrote very humerous poetry herself for any occassion.I have written poetry myself which I will soon compile for publication,and have started another novel.
Books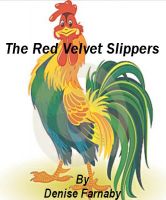 The Red Velvet Slippers
by

Denise Farnaby
An adventure story of Daisy the cow,Mop the dog,Jack the horse,and Charlie the cockerel.Four farm yard friends who go on an adventure. Who will they meet? will they ever return to the farm yard? A story full of adventure and amusement. Excellent reading for the young.
Denise Farnaby's tag cloud