Felicity Quill
Biography
Having written online for years in small circles, Felicity Quill finally decided to pursue her passion for erotic romance as more than a simple hobby. Her favorite genres are paranormal and fantasy erotica, exploring the strong, sexual dynamics of supernatural and non-human beings. Incubi are a common topic of her steamy writing, as are demons, dragons, werewolves, and other beastly shifters.
Books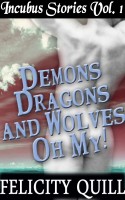 Incubus Stories Vol. 1: Demons, Dragons and Wolves, Oh My!
by

Felicity Quill
This 4-in-1 collection is a must-have for fans of paranormal and fantasy erotic romance! From a needy reunion between lovers to spicy first-time encounters, these four sexy shorts of hungry incubi getting their fill, featuring werewolves, demons, dragons and humans as their partners are sure to satisfy you.
Felicity Quill's tag cloud