Sikke Belmont
Biography
Alexander Siike Belmont was born Boy Donnelly in Wheeling, WV during the summer of 1982. He has worked in film, television, animation, novels, and comic books, with a growing number of writing credits. With each project, he goes by a different pen name, but always keeps his real name Siike in them. When asked why he does
this, he simply replied, "Cause I'm clearly odd, like most writers."
He currently lives in Los Angeles where he uses his free time to read nearly every comic Marvel and DC put out and plays Xbox Live with his best friends in South Carolina.
Books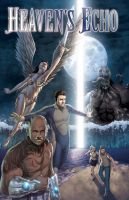 Heaven's Echo
by

Sikke Belmont
Thousands of years ago, the city of Atlantis went from a land of obedience and peace to a set of islands at war. Each Atlantean possessed a unique gift that allowed some to fly, some to build, and some to control the elements. But when the people of Atlantis turned against their creator, their abilities were taken, and nearly all were killed.
Sikke Belmont's tag cloud