Brad R. Torgersen
Biography
Brad R. Torgersen is an award-winning science fiction writer who debuted in the 26th volume of Writers of the Future, and has since gone on to publish in some of the genre's top venues, such as Analog Science Fiction & Fact, and Orson Scott Card's Intergalactic Medicine Show. Brad has also scripted for science fiction audio serial Searcher and Stallion, as well as collaborating on military science fiction with award-winner and genre veteran Mike Resnick. A full-time healthcare tech geek by day, Brad is also a United States Army Reserve Warrant Officer.
Where to find Brad R. Torgersen online
Books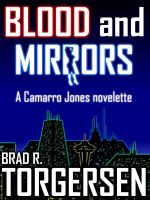 Blood and Mirrors - A Camarro Jones novelette
by

Brad R. Torgersen
Life on the Scene was never easy. For simulated human Camarro Jones, working the murder-vice beat for ESBT Metro can be a stroll through hell. A serial murderer is hitting the Scene, knocking off humans and simumans alike. Due to her past, Camarro ought to be the perfect cop to track down the perp. She knows the Scene all too well. But she's in for a lot more than she bargained for.
Brad R. Torgersen's tag cloud