justice Anand
Biography
Market Eye is a private trading company focused on turning a regular
Joe into a profitable trader, small time or big time.
From here ongoing, let it be known that the books purpose is not to
convince the reader about forex's legitimacy or lucrativeness. This
book is not to draw the reader out of the doubts/fraud/scams/myth
which surround forex trading
The main purpose is to reduce the time from introduction to profit
trading (take money).
The compilation of this book was done through several years of
research and trading experience. The sole purpose being to reduce
red tape for newbies.
Great efforts were done to simplify the terminology and procedures
one needs to know to get to profit making (take money)
Many newbies die out of forex trading due to mere frustration and
loss of money, especially if its money they were not prepared to
loose.
Frustration and loss of money are greatly due to mere ignorance and
a bit of bad luck.
If you listen to a group of newbies discussing about forex, and you are
a newbie yourself, you will bet all your money and be convinced that
forex is gambling or a luck exercise like horse racing, lotto and sport
betting. If you are a newbie as you read this, I bet you have the same
type of sentiment towards trading in general.
It's now time to lay all your doubts and negative beliefs at rest,
instructionally reading this book will make you realize, like every
business in this world which needs knowledge, skill and patience
amongst other things, so is forex trading.
Books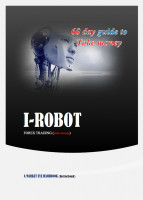 i-robot
by

justice Anand
forex trading system, forex day trading, learn forex trading, forex trading software, forex trading strategies, how to trade forex, forex systems and many more forex secrets
justice Anand's tag cloud