Roberta Joan Jensen
Biography
At the age of two, Roberta Joan Jensen developed Juvenile
Rheumatoid Arthritis which both crippled and blinded her. Her
main goal in life has always been to try to live as normal a life
as possible, which has included being married to a man in the Air
Force, getting divorced, being a single mother, and helping her
daughter raise her two children. She was born in Montana, and
has lived in Nebraska, Iowa, Minnesota, Maine, Okinawa, Delaware,
and now Arizona.

She attended the school for the blind in Minnesota; Grand canyon
College in Phoenix; The University of Maryland, Far East Division
on Okinawa where she earned her Bachelor's Degree (and gave birth
to her daughter); the University of Delaware working on a
Master's Degree; and the University of Arizona, College of Law
where she obtained her Doctorate of Jurisprudence; and
practiced family law 1988-2010. She is now retired and is starting her new career in writing.

Because of being disabled all her life, Roberta's refuge has
always been novels--she can be anyone and go anywhere in a novel.
She has enjoyed untold hours of the writings of others and now
wishes to provide some of that pleasure to others.
Books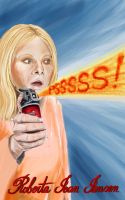 Psssss!
by

Roberta Joan Jensen
One night while Nancy is driving home from her concert, she sees a light on in Janet's apartment and becomes worried. With pepper spray in hand, Nancy investigates, leading to confusion, family reunion, and romance. Enjoy this funny and heart-warming short story.
Roberta Joan Jensen's tag cloud