Steve Simandle
Biography
Born in California, raised in the mountains of North Carolina, Steve studied at Appalachian State University in Boone, NC where he ran cross-country and track. He completed his education at East Carolina University, earning his Ph.D. in physiology.

Still a sucker for a story - good or bad - and a corny joke, Steve makes his home in North Carolina thinking, pondering, and musing about what might come.
Books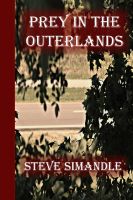 Prey in the Outerlands
by

Steve Simandle
They said the world was going to end on December 21, 2012. It didn't. But that was the day it started. On that day webarmor was invented. In the aftermath of the Breaking, corporations rule and people can work for the corporations – or fend for themselves in the Outerlands. Randal, inventor of webarmor, lives his life on the run pursued by Hunters, trying to survive as Prey in the Outerlands.
Steve Simandle's tag cloud