Ginger Simpson
Biography
Multi-published author, Ginger Simpson, retired from the University of California, Davis in 2003 after twenty-three years of working with students. She relocated to Tennessee, along with her husband, Kelly, in order to spend time writing and be caretaker to their grandson, Spencer. In her spare time, she blogs, chats, promotes, Facebooks, Tweets, posts on loops, and creates video trailers for her books. She's been published since 2003 and hopes to be around for a long time. With eight new releases coming in 2011, she's looking forward to a busy year. The continuous stream of characters who use the revolving door to her mind keep in works-in-progress folder full. It's a good thing she loves to write.
Where to find Ginger Simpson online
Books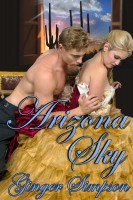 Arizona Sky
by

Ginger Simpson
The wagon carrying Odessa Clay and her father overturns, killing him. Alone and scared in the middle of the desert, she faces finding her way to Phoenix and her Aunt Susan. Food and water run out, and Odessa is near death when Zach Johnson finds her. Squinting up into his tanned and handsome face, Dessie believes she's died and gone to heaven.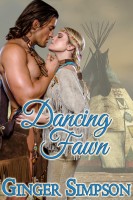 Dancing Fawn
by

Ginger Simpson
Grace Cummings' family is killed and she's taken captive by a war party of young Lakota's hungry to fight the white men encroaching on their sacred black hill; land granted them in a treaty with the government. The brave responsible for leading the war party and Grace's captor is shunned by the tribe for drawing attention to their band and leaves the village.
Ginger Simpson's tag cloud