Howard Eisenberg
Writing books for over 50+ years, turning 90 this year, author Howard Eisenberg has written hundreds of articles, countless books --often with his late wife, Arlene (What to Expect When You're Expecting)-- for national publications. Howard's writing has been published in the New York Times Magazine, Saturday Evening Post, Reader's Digest, Cosmopolitan, Parade, The Wall Street Journal, Parenting Magazine, Baby Talk, Reader's Digest and dozens of others. Additionally he's written six adult books, four co-authored with Arlene, three Guess Who (Guess Who Zoo, Guess Who Farm, Guess Who Neighborhood) books for children, and scripts for radio and TV. Howard's latest book Adorable Scoundrels is a wry read of super poems about tenacious tots. A great grandfather even greater writer, Howard's website is www.howardeisenbergauthor.com
Howard Eisenberg on CBS Early Show
"Its Never Too Late to Date" by Howard Eisenberg
PS 1 performs Eisenberg's "Guess Who Zoo"
www.guesswhozoo.com
Good News Broadcast Interviews Howard Eisenberg
Adorable Scoundrels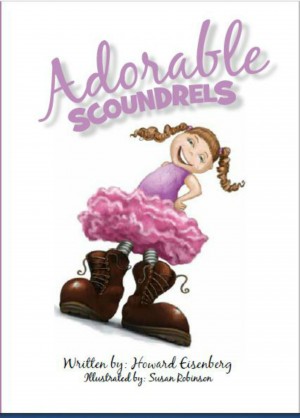 Adorable Scoundrels: A Treasury of Toddler Poems
by

Howard Eisenberg
Reader's Favorite says, "Adorable Scoundrels by Howard Eisenberg is a fun collection of short verses about bringing up toddlers or children. There are 43 poems, each accompanied by bright and colorful illustrations. Parents and grandparents everywhere will recognize and empathize with the humorous take on life with youngsters that these poems convey."