Nick Brown
Biography
Sajjad A (pen name Nick Brown) provides personal assistance to business leaders striving to achieve their goals. He displays an equal level of prowess in areas of business, strategic planning and purpose driven lifestyle.
Nick Brown is a passionate, creative and inspirational writer who brings excitement, focus and leadership to open-minded and curious readers.
His aim is to help you design a plan, build a map, and set you on your intended path with the right words, knowledge, passion and drive!
You can read his books on Personal Branding: How to brand your Personal Profile, Lady Gaga: A study of fame in Personal Branding, How to Close More Leads, How to Choose an Advertising Agency, The Role of Baristas at Starbucks and more.
Books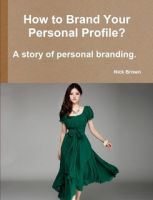 How to Brand Your Personal Profile? A story of personal branding and how it can change your life!
by

Nick Brown
A Personal brand when used as a marketing tool can make your professional profile more attractive, visible, credible, lucrative, and long lasting. This book serves as a dynamic tool to develop your professional profile in a diverse world. Get started with this stellar book to grasp the fundamentals of Personal branding. Available at 60% discount. Limited time pricing offer
Nick Brown's tag cloud