Susan Kling Finston
Biography
Dining in the Garden of Eden has its roots in Ann Arbor, Michigan, as does the author. Susan Kling Finston began cooking in earnest as a graduate student at the University of Michigan, where her fondest memories are of dinners and Sunday brunches spent with in the kitchen and around the table with friends. The kitchen became both a haven after disappointments and the best place to celebrate the successes of daily life. Some of the recipes in Dining in the Garden of Eden are updated versions of classic American foods that Susan has been cooking for over thirty years. After graduation, Susan left the warmth and comfort of Ann Arbor to explore the wider world. While serving as a Foreign Service Officer for the Department of State in Washington DC and at Embassies overseas, she adapted recipes from friends and colleagues encountered in different cultures in Europe, the Middle East, Africa, and Asia. She also worked in the international division of the Pharmaceutical Research and Manufacturers of America (PhRMA). Since 2005 she has been working as an independent consultant for bio-pharmaceutical and other innovative companies, as well as universities and NGOs on a variety of trade policy and doing business issues relating to the enabling environment for assimilation of new technologies for creation of social and economic benefit.
Where to find Susan Kling Finston online
Books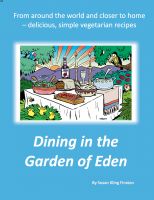 Dining in the Garden of Eden
by

Susan Kling Finston
Dining in the Garden of Eden is an international vegetarian cookbook, with recipes offered in the spirit of Eden to bring peace and joy to you, your family and friends, and as a delicious way to repair the world. They have been adapted from from different cultures in Europe, the Middle East, Africa and Asia, and in some cases are updated versions of American classics.
Susan Kling Finston's tag cloud