Jon Adams
Biography
Jon Adams grew up in Santa Clara Valley. At the age of sixteen he left San Francisco on the schooner Fairweather for a cruise around the world. He arrived back in California in time to participate in the Vietnam War. Afterwards, he attended the University of California, where he received a doctorate in English. Currently he teaches American literature and film at Freiburg University, Germany. Among his various publications are essays on the American Revolution, Jack London, and Sam Peckinpah. The Cruise of the Jest is his first novel.
Where to find Jon Adams online
Books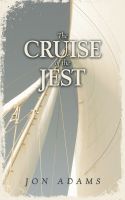 The Cruise of the Jest
by

Jon Adams
Price:
$5.99 USD.
Words: 79,940. Language: English. Published: August 19, 2011. Categories:
Fiction
»
Coming of age
The Cruise of the Jest is the story of a sixteen-year-old boy whose father tells him to sail a 35-foot boat from San Francisco to Hawaii. The boy refuses and instead tries to hide by sailing down the coast of California. But his father follows him, chasing him farther west, until eventually the boy sails alone around the world.
Jon Adams' tag cloud