Lee Newey
Biography
Thank you for checking me out, my name is Lee Newey I grew up in a mining village called Maltby in the Rotherham area. One of eight kids . My world revolved around films and comics, as I grew up the interest deepened.. I have had the privilege to see the hero's I read about appear on the big screen brought to life by todays outstanding technology.
I married my childhood sweetheart Julie in 1987 and we live at home with our five house rabbits and Tia our Boston Terrier. Invincible was a idea I had back in the early nineties..i never really did anything about it and spent two years writing a book I hated and shelved. Julie told me to write what I would like to read and so after some stops ( many of them ) and starts I eventually through the encouragement of my wife ..well you have what you see today.
Thank you for stopping by and reading about me it is so appreciated.
Books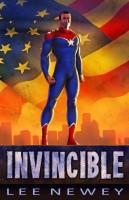 Invincible
by

Lee Newey
An ordinary boy with a loving mother and a violent, alcoholic father. A life of escapism comes in the form of a real life superhero. Now an obsessed adult, Clay goes on a quest to find Invincible who once saved him from a watery grave. But all is not what it seems…
Lee Newey's tag cloud