Steve McEwin
Biography
I'm a single dad. When i say that, at home it's just me - cook, cleaner, executioner. I have a GF but she lives 1500km away.

I'm a busy guy, i have my daughter 50:50 with my ex. I fly a lot in the remaining 26 weeks, a lot. I rebuild businesses in my job. I have a derivatives trading company. I'm love adventurous sports - rock climbing and skiing. I like designing and making things.

I like to help people. I like to make other peoples lives easy. I've made a number of systemic changes in my life to make things work smoothly, and this book is a first attempt at sharing those things with you.

It's not Rocket Surgery, anyone can have a healthy fulfilling life.
Books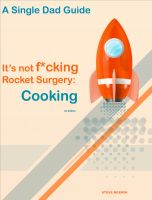 Steve McEwin's tag cloud