Cathy Smith
Biography
Cathy Smith is the real name of Zara Brooks-Watson and Sophia Watson. She writes poetry, takes digital photos of her favorite places such as the Florida Everglades, Harvard Yard, southern California beaches and the creeks, ponds and rivers of northern Maine, where she lives. She owns a fine, rescued Yorkshire Terrier named Sparky who fills her days with Yorkie chatter and a very sparky personality. She has been writing for most of her life, since childhood -- and learning the complicated craft as well. She has also been vegan/vegetarian for about thirty years or more, and very happy with that. Likes riding bicycles and creating new worlds and people through her authorship. "Wishes on the Edge of Time" the second poetry Journal is available at her poetry website below. A third volume is in the works. Ms. Smith attended Boston University (graduating magna cum laude) and Harvard University which she finds to be a subtle and beautiful, natural place filled with cherry trees, owls and super-friendly squirrels. Links to all her other ebooks are at the same website below. She also enjoys writing cozy mysteries.
Where to find Cathy Smith online
Series
Beautiful Dreamer -- Short Stories
by

Cathy Smith
This is a potpourri of shorts by Cathy Smith. It spans surprise stories of serendipity, prose poetry describing a wild child, freedom found stories, a ballerina, a generous, egalitarian ederly Cherokee woman in the old south and many more intriguing & fantasy themes.
Books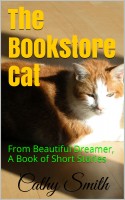 The Bookstore Cat
by

Cathy Smith
This is a short story about a cat living in a basement level used bookstore and its elderly owner. Tallie (named after "Till Eulenspiegel's Merry Pranks" by Richard Strauss) is a rather spoiled cat, overly pampered and rather domineering, but loved. This story is "very cat". If you love cats and books, this is for you. It is a shape-changing story with a surprise ending. Good for teen-adult.
Cathy Smith's tag cloud