Spencer Jones
Biography
Spencer Jones is an avid kayak angler from the Fox Cities in Wisconsin. Fishing since he was a child and kayaking since a teen he combined the two and loves to share the joy of the amazing blend! He created a Wisconsin kayak angling group called the Badger Yakkers where anglers from across the state can share their adventures and plan outings. Spencer started the "Jonesin' for Mini Series where he showcases amazing fisheries from around the world with his viewers. He also started What's What on the Water: Catch and Release Review where he takes an in depth look at products used by kayak fisherman. Aside from kayak fishing, one of his goals is to help other anglers and outdoor folks eat fit and healthy with his Jonesin' to get Fit business. When not exploring new areas across Wisconsin and the Country or helping folks get healthy he teaches High School choir, helps fundraise for charities and causes and actively participates in kayak fishing forums helping other kayak anglers with this great sport.
Where to find Spencer Jones online
Videos
Jonesin' for Inshore Louisiana Day 1 & 2
Join Spencer Jones as he chases inshore species in the great state of Louisiana! Redfish, Speckled Trout, Black drum and more! Don't miss this first episode of the series!
Books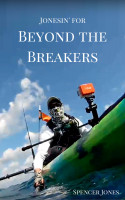 Jonesin' for Beyond the Breakers
by

Spencer Jones
New to kayak fishing Beyond the Breakers? Learn everything you need to have a successful trip as author, Spencer Jones, shares what he learned on his adventure to fish in the Extreme Kayak Fishing Series. This includes all the tips and tricks he learned before, during, and after the trip, plus you get access to an exclusive interview with the series tournament director.
Spencer Jones' tag cloud