Samuel J Parker
Biography
My writing before RED SNAPPER was of a technical nature. Hundreds, if not thousands, of reports designed to influence business and government decision makers. The one exciting aspect of these writings was they were all based on interviews with real people – consumers of hundreds of different consumer products and services, powerful decision makers in multi-national corporations, people caring for disabled loved ones, people close to giving up on life, addicts and many others. Each interview providing a rich insight into the values, insights and experiences that guides us through our lives.
Teaching in England, Jamaica and Thailand to students from across the world has provided a priceless backdrop and understanding of the cultural and political forces at work.
These experiences seem a reasonable justification for embarking on a new career as a writer. It is an opportunity to let the imagination run wild to entertain the reader as opposed to informing them.
Books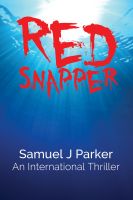 Red Snapper
by

Samuel J Parker
(5.00 from 1 review)
Fast paced action thriller about the CIA's covert activities in the beautiful island of Jamaica in the 80's. CIA agent Wynton McKenna engages Miami based Cuban exiles and Mafia in his fight against Castro's terrorist organisation. The situation is further complicated by a love affair designed to test personal loyalties to the limit.
Samuel J Parker's tag cloud