Julie Sarff
Biography
I am a happily married mother of two. Although, I do suppose there is some give and take when it comes to marriage, if you know what I mean. For instance, I did not know about the DISHWASHER OPTIMIZATION RULE before I was married. Here's the thing, if I put a fork in the dishwasher, my beloved will come along behind me and remove the fork, and then put it back in the dishwasher in some sort of OPTIMIZED fashion. Not only does he do this, but he will give me a disbelieving look and may even grunt as if to say, "What the hell? Seriously, what the hell, by now you should know EXACTLY where the fork goes in the dishwasher." I find him in the kitchen at ten thirty at night rearranging all the dishes I have already put in the dishwasher. In the deepest, darkest recesses of my mind it does not even occur to me that there is an optimization plan for the dishwasher. You put the dishes in, poof, they come out clean. Now that is not to say that I am not down with the Obsessive Compulsive Thing. I am down with it. I steal chalk. That's right, chalk. It's not that I want the chalk per se, it's that when I am done lecturing I swoop up everything in my path and deposit it into my bag out of fear of losing my keys. When I get home after a class,I look in my bag and it is FULL of chalk. I take the chalk back, free it and go on about my business...
Books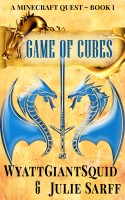 Minecraft:A Game of Cubes
by

Julie Sarff
Summer is coming! Things are beginning to thaw in the ice cube field to the north. When a villager of the Snow-Block-Wall deserts, Nerderd Spark must intervene. The villager warns of creepers coming to life as the world becomes warmer. Nerderd calls it madness and sends the villager back to the wall to stand vigil.
Julie Sarff's tag cloud