Ejothian Litman
Biography
To some people, thanking God is a cliché', to others and myself, it is a way of life. I thank God for the people He put in my life to help mold me into a better man. This is more of an acknowledgement than a bio, because I would not be who I am without the people and circumstances that shaped me. Yes, I thank God and my mother who believed in me when I doubted myself. Thank you April, my elevator miracle, who told me to stop procrastinating, Cheryl told me to forgive, Teresa told me to move on and Cherry to live life to the fullest. Harold and Bobby were always there even when we disagreed on so many levels. Friends from childhood to adulthood, we carried our ups and downs, losses and gains, with us. To Momma Bennett and my sister Judy, who were always a part of my life, but have been positive influences since I lost my own mother. I can't forget my former lunch buddies who are remarkable women, Lila, Vivian, Niecy, Evelyn, D, Princess and the Golden Girls. Rest in peace, Lila. There are so many people to thank even those who rejected me because they gave me a stronger desire to overcome future obstacles. These are no coincidences, just divine acts of God.
Where to find Ejothian Litman online
Books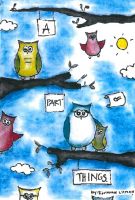 A Part of Things
by

Ejothian Litman
Take a stroll through memory lane! Remember the laughter and the tears! Remember the people that made you laugh, cry and become the person that you are. We are on a journey to somewhere. So relax, sit back and enjoy yourself! Add your own thoughts to the "As I Get Older" section; it's a work in progress. I do wish you well!
Ejothian Litman's tag cloud