Souvik Das Gupta
Biography
I am deeply inspired by the things that come straight to me without much difficulties and at the same time which comes by chance, I appreciate wholly. My ideas are imperative and never ending and suits to the every classy people. My stories reflects the perfect blend of Literature and the Imagination. One can feel the swing of Imaginations by going through any of my book. It can lead you to feel extreme good about me or sometime may take you with surprise by the amount of extreme good usage of Literature and authors concepted imaginative thoughts, which seriously need an introspect by others. Reading itself is equavalent to believing so am i speaking worthy, prove yourself.
Books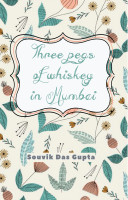 Three pegs of whiskey in Mumbai
by

Souvik Das Gupta
This book is all about the ethnic corporate culture of Indian multinational companies which goes extensively into extreme rough weather not because one is having its sales figures detoriated but due to other using an unlawful things to tarnish the established brand.
Souvik Das Gupta's tag cloud