Maude Spekes and Sybilia Grogan
Biography
Sybilia Oracle of Delphi Grogan was born in Cyprus in 1970, the only child of Sir Colin and Dame Hortense Biddlebrook-Grogan, PhDs. The Grogans, authors of Mystery Religions of the Hellenic Diaspora; and From Eleusis to Priapis: Sexuality and Religion in the Age of Heraclitus, were knighted by Queen Elizabeth for their lifetime service to Greco-Roman thought and archaeology as much as for all the neat statues they nicked for the British Museum. Sybilia's recent novels are Constant Companion and Seasick.

Maude H.A.A. Spekes is a librarian and naming consultant who distills and independently bottles single-malt scotch for an undisclosed tavern in NYC. She is the author of Portrait of the Artist as a Grain of Sand: The Infuence of Sufi Epic Poetry on James Joyce; and A Carcass and a Pint of Paltry Blood: Epictetus and the Idea of Other. She teaches workshops on 17th-century poetry, echolocation, indexing, and self-forgiveness. Her most recent title is OMGZILLA: The Book of Genesis, illustrated by John Bergdahl.
Books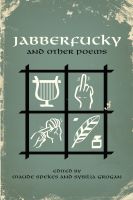 Jabberfucky and other poems
by

Maude Spekes and Sybilia Grogan
A parody of poetry anthologies, Jabberfucky is a romp of bawdlerized versions of best-loved poems. #replacewordswithfuck. If you love word games, poetry, or vulgarity, Jabberfucky is sure to delight.
Maude Spekes and Sybilia Grogan's tag cloud