Robert Sprague
Biography
I grew up in a home of first generation Canadians. My parents instilled in me the values of hard work and perseverance. Leaving home at sixteen I pursued my education while working full time in a variety of jobs. Following my mother's advice I acquired skills, a trade and continue to this day in educational pursuits. I have a deep and abiding faith in God and have worked for many years to promote faith in those around me. I have written poetry, music, short stories and have published many articles on a wide range of topics. I am blessed with a natural curiosity that makes learning a real joy. I have a wonderful wife, Gina and five awesome children. At the time I wrote this book I had eleven grandchildren and two on the way. Next to my love of God and family I love to sail. I look forward to the adventures that lay ahead as I sail forward to the uncharted islands that are just beyond the horizon.
Where to find Robert Sprague online
Books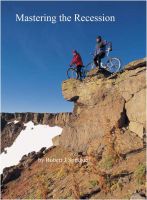 Mastering the Recession
By
Robert Sprague
Price:
$1.99 USD.
Words: 10,040. Language: English. Published: May 24, 2012. Category: Nonfiction
The first thing I want to discuss is the title. I could have called this book How to Survive the Recession. However, if all you want to do is survive then don`t bother reading further. Robinson Crusoe survived on a desert island. When he was finally rescued he was dressed in rags and half crazy. A recession, like any other time
Robert Sprague's tag cloud