Tina York
Tina began her professional life at age six, concertising in Eastern Europe as violinist child prodigy. Not content with the inherent limitations the performing arts afford, she wanted more, and one day found herself fascinated with color, design, and especially, fine arts painting. She became a full time student in an art apprenticeship similar to those of the time of Ghirlandaio (Michelangelo's teacher) ...that lasted eight intensive years, during which she exhibited widely, won several prizes and sold phenomenally.

But this, too, was not enough for her insatiable hunger to know more. She went to college, pre-med, completed the required four years of studies in just two and a half, graduated with honors, and continued her formal education in medical school. After three years there and five additional years of private studies in astronomy, physics, chemistry, biology and philosophy, she had at last attained the knowledge that would give her the opportunity to do the work she felt compelled to do. Since then she has written two books, painted 41 important commissions, exhibited here and in different countries, was published here and abroad, won more prizes and completed several intellectually demanding series of paintings.

Working in her own styles, which she calls macro realism and abstract symbolism, she gives her imagination free reign. Employing such techniques as double canvas, multilevel construction, sculptured line, etc., her mostly three-dimensional, vibrant, dynamic and dramatic paintings deal with a variety of subject matter and can be found in many important collections throughout the world.
Tina York's 1999 TV Interview
In 1999 I was interviewed by Tanya on KUSK television. This video contains a few excerpts from our conversation.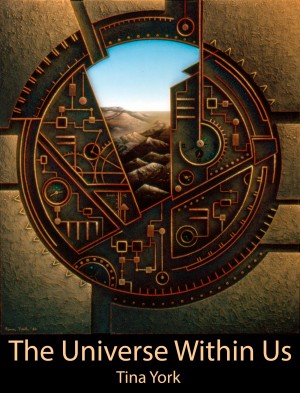 The Universe Within Us
by

Tina York
The Universe Within Us is a book of 54 original paintings by Tina York, based on scanning electron micrographs (photographs taken through a scanning electron microscope -- images enlarged up to 70,000 times) of all systems of the human body. It relates the microcosm that is us, to the macrocosm of the universe.