Srikrishnan Ku
Biography
Born as the eighth child of a pious couple Dr.N.Kuppuswami Sarma and Mohambal at Pattukottai, TamilNadu, the 62 year old former Associate Professor of English, Srikrishnan , spent four decades of his life in temple city Madurai. He worked for upliftment of teachers and down-trodden people. He is a practitioner of Yoga and meditation and a staunch devotee of sages of Kanchi and Bhagwan Satya Sai Baba. He publishes his poems at All Poetry.com and Poetry.com. He lives in Chennai, Mumbai and visits San Antonio,US to stay with his son's family. He loves reading, writing, visiting new places and meeting new people.
Where to find Srikrishnan Ku online
Books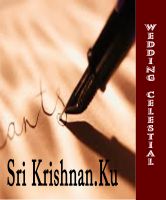 Wedding Celestial
by

Srikrishnan Ku
Wedding Celestial, a collection of short poems in free verse form, is written to share with a larger number of readers who look for poems from depth of one's soul. As a former Associate Professor of English, K.Srikrishnan with a wide world outlook has brought out simple charms of life,its hopes,fears,feelings and fantasies.
Srikrishnan Ku's tag cloud