Shady Srour
Biography
I have been informally studying natural medicine for 15 years. Formally, I have a BA in Zoology and a minor in Neuroscience from Miami University-Oxford, Ohio. In my spare time I enjoy playing piano, hiking, and trying to make the world a better place. I am passionate about organic, sustainable agriculture and ecologically sustainable lifestyles.
Books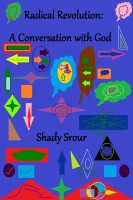 Radical Revolution: A Conversation with God
by

Shady Srour
Experience a remarkable journey that delves into the deepest spiritual levels of life to reveal new truths. Radical Revolution: A Conversation with God is unlike anything else out there. It touches the heart and moves the spirit to action in the real world. It takes on the purpose of life and the meaning of every day actions. A profound transformation awaits you.
Shady Srour's tag cloud