Stacy Reynolds
Biography
After she graduated from college, Stacy Reynolds went to work for a small newspaper in San Marcos, Texas. During the next ten years, she worked for several different papers, all with the American Publishing Company. She has had short stories published in the Hillside Scene and The Strain. Reynolds has also won the Outsiders Ink Short Story Content and been asked to be a regular contributor to the online magazine.

Stacy has a Bachelor's Degree in English and Journalism from Southwest Texas State University. She currently lives in Austin, Texas.
Books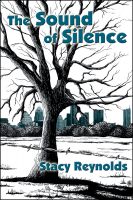 The Sound of Silence
by

Stacy Reynolds
The world economy has collapsed; thousands are left unemployed; and thousands more are left homeless. As Conner searches for a way to free her girlfriend from a relocation camp, she stumbles across a plan to rid the city… and eventually the world… of the sick, the poor… and homosexuals. Now she has to make a choice between the love of her life and hundreds if not thousands of lives.
Stacy Reynolds' tag cloud