Graham Carmichael
Biography
Welcome to my author page. Currently, I have two books available to my name. The first, Resurrection: The Chronicles of Chaos, Book 1, is available here on Smashwords and is totally free. My other book, Alandale, is available exclusively through Amazon and is available in print or eBook formats. With Resurrection; I wrote this when I was 23 and I profess to not having a great command of the English language, or how to use it effectively. So, even though I am proud of this book, I made it available for free so that people could at least enjoy the story, if you can overlook some of the technical issues it has. Alandale is a different beast. It is a biography of the life of Mary Dickenson, a woman you will not have heard of. She wrote the story for the book based on a true account of her time as a child, growing up during World War 2. Unfortunately, she passed away before she had fully completed it, so, as a gesture to her son, who was a colleague of mine, I completed the story, edited it and took it to print. I hope that if you read this, you might be interested in looking up Alandale. It was a labour of love for Mary and for her family, and I would appreciate it if you could check it out.
Books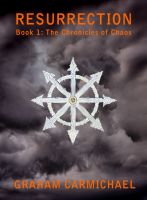 Resurrection (Book 1: The Chronicles of Chaos)
by

Graham Carmichael
(3.00 from 1 review)
The former commander of the King's Army returns home to find a massacre; his wife brutally murdered, his newborn daughter kidnapped. After seeking the aid of the king, a party of adventurers cross the sea to Cursed Isle; the home of all things evil. Their investigation leads the adventurers to uncover a plot that if successful, will plungs the kingdom into chaos. Join them in this epic fantasy.
Graham Carmichael's tag cloud