Stan Toler Linda Toler
Biography
Stan and Linda Toler have been married for over 37 years. The Tolers have written three previous books together.

Stan Toler is a general superintendent in the Church of the Nazarene. Prior to being elected G.S. in 2009, he served for 40 years as a pastor in Ohio, Florida, Tennessee, and Oklahoma. Toler has been an international speaker and seminar leader in churches and corporations around the world.

Toler has written over 70 books, including his best-sellers, God Has Never Failed Me, But He's Sure Scared Me to Death a Few Times, ReThink Your Life, and his popular Minute Motivator series.
Linda is an educator and author who speaks from the heart to women of all ages at conferences, retreats, etc.

They have two married sons, Seth (Marcy) and Adam (Amanda), and one grandson, Rhett.
Books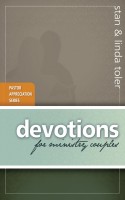 Devotions for Ministry Couples
by

Stan Toler Linda Toler
From best-selling authors Stan and Linda Toler, devotions designed to specifically engage and enrich the lives of couples in their relationship with each other and as they grow together as one with God! Having served in ministry together for over 30 years, Stan and Linda Toler are able to speak with compassion and wisdom to ministry couples.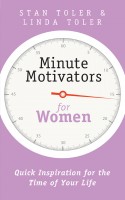 Minute Motivators for Women
by

Stan Toler Linda Toler
Women are influencers. You influence your husbands, your children, your church community, your coworkers, your neighbors. That means you have a big responsibility. Take some time right now for yourself. One minute could make all the difference for you and for those around you.
Stan Toler Linda Toler's tag cloud