Tom Standard
Biography
I am a retired Professional Mechanical Engineer. My wife, Mary, is a retired Educator. We share a taste for adventure and travel.
After exciting and enjoyable careers, we retired to a 100-acre tree farm in Western Maine to be near some of our grand kids as they grew up.
Our home in Sumner (population ~900) is in the foothills of the White Mountains.
Even before we met Maat, the little goddess of doing what is right, we tried to live by the principals she embodies. For our entire 58-year marriage, we have been active in Church work; Mary mostly as a musician and teacher, me mostly as teacher and lay preacher in children's church.
Mary was born in Southern Mississippi. I was born in the Pennyrile section of Kentucky. The twists and turns that brought us together in a small agricultural High School in Perkinston, Mississippi shows that He Who Is In Charge has a sense of humor - and plans we cannot always understand.
Mary and I both write freelance for the Lewiston Sun Journal. I take an active role in local politics and for six years served three small town as Emergency Management Director.
We have been blessed with two children, eight grand children and three great-grand children.
I encourage you to delve a little deeper into ancient Egypt. Your library has lots of beautiful books. "Reading Egyptian Art: A Hieroglyphic Guide to Ancient Egyptian Painting and Sculpture," by Richard H. Wilkinson, is the easiest way to gain an appreciation for how symbolism and words are incorporated into typical Egyptian art.
Books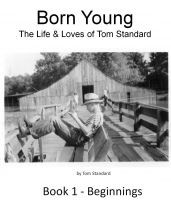 Born Young - The Life & Loves of Tom Standard; Beginnings
by

Tom Standard
"Born Young - The Life & Loves of Tom Standard" is an autobiography specifically written as a love letter to my Great-Grand Children and their descendants. You, too, are welcome to peruse it; I hope you find a snippet or two you can relate to and enjoy. When I read my Great Granddad's Civil War diary, I felt near him. That's why this love letter to those who follow me.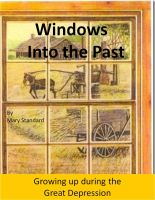 Windows Into the Past
by

Tom Standard
"Windows Into the Past" is my recollection of growing up on a farm in south Mississippi during the depression. In a series of connected short stories, it highlights the part I played as a young girl and the hard work and pleasures of farm life. It shows how kids can not only survive, but thrive, under unthinkable conditions while doing chores that were dangerous but expected.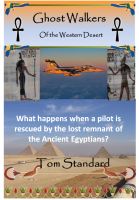 Ghost Walkers of the Western Desert
by

Tom Standard
(5.00 from 1 review)
What happens when a lost remnant of the ancient Egyptians rescues a downed pilot? What treasures and adventures are revealed? Duty demands a return to base to face the music for losing his aircraft. Maybe Maat does not exist - but it could. Come see what it might reveal if we ever find Pharaoh's lost colony. And see how Divine Providence can make something good out of what was intended to be evil
Tom Standard's tag cloud