Claire Kelly
Biography
Claire Kelly was born near Harrogate, North Yorkshire. She attended University at York and obtained a BA Degree in History, mainly specialising in Tudor England. Her first piece of work published on Smashwords was the dissertation she did in her final year. She has a strong interest in Medieval and Tudor History, as well as Horses, Horse Racing and Eventing. She lives near Harrogate, with her husband and two children.
Books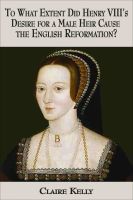 To what extent did Henry VIII's desire for a male heir cause the English Reformation?
by

Claire Kelly
You set the price!
Words: 12,370.
Language: English.
Published: March 16, 2012
. Categories:
Essay
»
Political
This article explores the reasons behind the English Reformation, mainly focusing on Henry VIII's desire for a male heir. It also portrays how his greed for wealth and his love for Anne Boleyn were just as significant in causing the reforms. Anne Boleyns influence was stronger than most people realise.
Claire Kelly's tag cloud