Stephan Hokke
Biography
I have been studying the realms of spirituality, Supreme Beings, and entrepreneurial enterprises. I read a lot about business, Scientology, and becoming a better person.

I have entrepreneurial interests in Africa and have paused projects in Australia, India and the uSA.

I was a presbyterian parishioner but after reading the Bible felt there was another way. I dug more into the Bible and am releasing some of my findings.

I am a Scientologist and as such am very interested in spirituality.

I know there is much to learn. What I learn should be passed on and thus my e-book will become joined by other e-books.
Books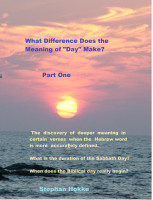 What Difference Does the Definition of 'Day' Make?
by

Stephan Hokke
The word "day" in English is a poor translation of a word in Hebrew that has many forms that mean slightly different things. See what difference this makes to your understanding of the Bible.
Stephan Hokke's tag cloud