Stephanie Innes
Biography
Stephanie Innes is a writer, an educator and a parent. Stephanie's son is a brilliant and beautiful boy who was incredibly sleep resistant in the first year of his life. This led Stephanie to do hours of research on sleep strategies for babies. From internet research to reading books to meeting with sleep consultants and talking with many other sleep deprived parents, Stephanie has explored many options for how to get your baby to sleep. She is excited to share the successful strategies with you in a quick, easy to read e-book.
Where to find Stephanie Innes online
Books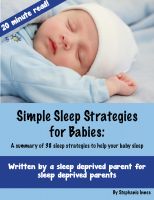 Simple Sleep Strategies for Babies: A summary of 38 sleep strategies to help your baby sleep
By
Stephanie Innes
Price:
$2.99 USD.
Words: 4,390. Language: English. Published: December 29, 2012. Category: Nonfiction
This is a concise guide to getting your baby to fall asleep and stay asleep. Author Stephanie Innes has read over twenty books on sleep and has summarized five of the books she found the most helpful in this quick read. This book contains over thirty five strategies and takes only twenty minutes to read. Written for sleep deprived parents of babies under one, it is clear, concise and practical.
Stephanie Innes's tag cloud