Stephen Collins
Biography
Stephen Collins studied Psychology at the Ohio State University. Which then lead into pursing career in self-improvement. He was introduced to this new self improvement lifestyle shortly after graduating from college. One of the things he wanted to change was binge behaviour. He'd binge eat, watch ton of episodes of his favorite shows at once... He soon discovered ways to help improve his self-discipline and only few short weeks after that, he was 'cured'

Stephen is an author of: Stop Binge Eating, Minimalist Living, How to Analyze people and more!
Books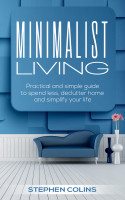 Minimalist Living: Practical and Simple Guide to Spend Less, Declutter Home and Simplify Your Life!
by

Stephen Collins
Save money, reuse stuff, live a happier and simpler life with little to no effort! BEAT CRAVINGS for useless and stupid stuff! What is the Minimalistic lifestyle? When most people hear about this new craze known as the minimalistic lifestyle the first thing that comes to their minds is "I have to throw away all of my cool stuff and live in a hut in the middle of nowhere!"
Stephen Collins' tag cloud