Stevanne Auerbach
Biography
Dr Toy invites you to play more in your life. Toy and play expert, Smart Play Smart Toys, author (15 books children's book, poetry collection, first novel THE CONTEST and Choosing Childcare (1st guide of its kind) and Child Care a Comprehensive Guide- 4 Volumes and Confronting the Child Care Crisis; consultant, networker; butterfly collector (art, crafts, poetry, stories, information, books, and protection of butterflies); Wife, mother, grandmother, daughter, sister, sister in law, cousin, and friend; loves animals and birds. Also gardening, cooking, watching classic movies; a positive person,. I do my best to make the most of each and every day -- do a good deed at least once a day. Wish for world peace and balance in prosperity. Grateful for technology and acumen at Smashwords and in Silicon Valley that has improved communications, information and potential for everyone around the world.
Where to find Stevanne Auerbach online
Books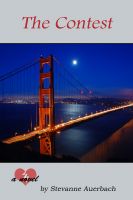 The Contest
by

Stevanne Auerbach
Shelly Stern,single mother working in Washington D.C. during 1960s, meets Doctor Fine. Fate intercedes and she moves west. They share active four-kid household for two years and marry when Shelly wins unique contest. Marriage is amazing roller coaster ride that matches inclines of hilly streets of San Francisco.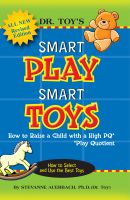 Dr. Toy's Smart Play Smart Toys
by

Stevanne Auerbach
Unique, comprehensive guide helps selection of best toys and games to develop "Play Quotient" (PQ) and expanding child's play. Helps adults navigate toy and play options, offers tips, toy safety, and suggests 160 playful activities. The book identifies educational, age-appropriate toys, supplies for playtime, and hundreds of ways to make play a life-long and nurturing experience. Let's play!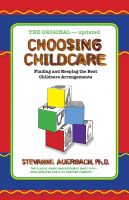 Choosing Childcare
by

Stevanne Auerbach
Choosing Childcare offers the original, detailed, concise, practical guidance on selecting childcare. Provides essential answers to best services. Includes information, checklists, potential arrangements, interviewing, understanding choices, tips on selection, pros and cons, planning budget, resources, schedules and more.
Stevanne Auerbach's tag cloud