Stephen J. Kieran
Biography
Stephen J. Kieran and lovely wife do their part to 'Keep Portland Weird'. The latest chapter finds them camping and snowshoeing with SuperDog, feasting in their food-mecca and ambling through Oregon's wine country. Steve's previously been published as a national columnist, humorist and technical writer, and has patience for neither slow drivers in life's fast lane nor fast talkers in the slow.
Books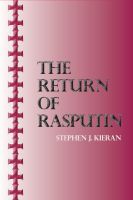 The Return of Rasputin
by

Stephen J. Kieran
Nick Brody's as normally-neurotic as any other kid growing up in today's Idaho—until his compass is tested by one of the most magnetic personalities ever to walk the earth. In fact, Rasputin's rise & fall are infamous, and he has EVERYTHING to do with Nick's quandary. But just how did he land in the Tsar's court...and what lead to his murder? Nick doesn't care. He just wants Rasputin gone. Now.
Stephen J. Kieran's tag cloud