Steve McVey
Biography
Steve McVey is the President of Grace Walk Ministries, a discipleship training ministry located in the metro Atlanta, Georgia area. He is the author of the books Grace Walk, (Harvest House, 1995); Grace Rules, (Harvest House, 1998); Grace Amazing, (Harvest House, January, 2001); A Divine Invitation, (Harvest House, July, 2002); The Godward Gaze, (Harvest House, 2003); The Grace Walk Experience, (Harvest House Publishers 2009); Walking in The Will of God, (Harvest House, 2009); Journey Into Intimacy (Grace Walk Resources, LLC 2008); 52 Lies Heard in Church Every Sunday, (Harvest House 2011); Helping Others Overcome Addiction, (co-authored with Mike Quarles – Harvest House 2012); Getting Past the Hurt When Others Have Wronged Us, 2013; Unlock Your Bible, 2013; The Grace Walk Devotional (Harvest House, 2013); Grace Walk Moments a Devotional (Harvest House, 2014); The Secret of Grace (Harvest House, 2014); and Beyond an Angry God ( Harvest House, 2014). Over 550,000 copies of Steve's books have been published in fifteen languages. He and his wife, Melanie live in Atlanta. They have four adult children and four grandchildren.
Where to find Steve McVey online
Books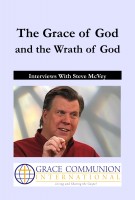 The Grace of God and the Wrath of God: Interviews With Steve McVey
by

Steve McVey
Steve McVey, founder of GraceWalk Ministries and author of numerous books, talks with us about the grace of God, the love of the Father, and the often-misunderstood topic of God's wrath. Updated in 2015 with a fifth interview.
Steve McVey's tag cloud