Steven Novotny
Biography
Steven Novotny was raised in Florida where he spent his youth riding motorcycles and horses through the swamps surrounding his rural home. Though deemed a "gifted child", Steven found himself beginning his adult life at the age of sixteen, following multiple self-inflicted life decisions. Twenty some years later, he is a Lieutenant Colonel in the US Air Force and a college professor. He possesses multiple degrees, including a PhD, in engineering physics, aerospace engineering, and astrophysics. His avant-garde path to success has provided a wealth of experiences that he continuously draws upon in his writing. He is currently working on his fifth novel, making a small excursion from science fiction to explore magical realism.
Where to find Steven Novotny online
Where to buy in print
Books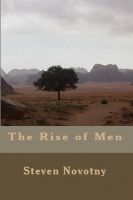 The Rise of Men
by

Steven Novotny
The world has order. The Archen ensure it. Through conceded technological and intellectual superiority, Archen Wardens have bridled the vicious nature of men. A thousand years of peace has endured. And now, humanity has had enough. Through a carefully staged event, a cabal of men reveals the latent power of humanity. The myth of inferiority is shattered and humans demand a new world order.